We are a serious, formal and imperfect company, committed to the society as a whole and the environment, both generating employment in good conditions and trying to provide the best possible service to its clients, adapting to their needs and their deadlines.
Today, we are the only company in the laundry sector in Mallorca that offers, through its brand, "Lavanderías Ecológicas Mallorca", all the possible services of the laundry and dry cleaning sector, with:
Laundries and dry cleaners for Dry and Water clothes cleaning and washing;
Self-service Laundries, with coin-operated washing machines and dryers, so that clients can perform their own washing service and more economically;
Laundry industrial plant, to serve Boutique Hotels, Farmhouse hotels, Holiday Homes, Boats, Beach Clubs, Restaurants…
Our special washing system is more eco-friendly, and extends the useful life of our clients' garments.
How do we do it?
Before washing, we wet the garments to open the pores of the fabrics, and thus allow stains and dirt to appear. In this way, we can reduce considerably the use of chemical products, and water at high temperatures during the washing process.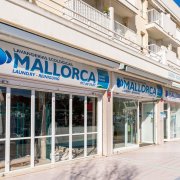 ECO FRIENDLY LAUNDRY MALLORCA
We are a versatile company, and that is our competitive advantage: we adapt to the specific needs of each client, whether big or small. In this way, we are able to customize our services and meet all your needs.